PRESS
The Future of Luup Following the Enforcement of the Revised Road Traffic
Developed foldable helmets with original design
The revised Road Traffic Law that newly defines vehicle categories for e-scooters and other electric small mobility vehicles, which the Diet passed on Tuesday, April 19, 2022, went into effect today, Saturday, July 1, 2023. Luup, Inc. (Head office: Chiyoda-ku, Tokyo; President and CEO: Daiki Okai; hereinafter "Luup") will further focus on raising awareness of the new traffic rules so that new mobility vehicles can be used safely and appropriately. Furthermore, in response to the April 2023 regulation that requires bicyclists to wear helmets, which will also apply to "Specified Small Motorized Bicycles," a new category for e-scooters, we have developed a helmet with an original design. We will consider utilizing, distributing, and selling the helmets at future safety workshops.
Luup's History to Date and How the Rules Have Been Changed
Luup offers "LUUP," a sharing service for electric micromobility vehicles such as e-scooters and e-bikes, with the mission to "create an infrastructure that turns the entire city into a 'station front.'" The service is used as a means of daily transportation for various situations, including commuting to work or school, shopping, outings, and sightseeing.
Installing stations, the hub of LUUP mobility, will lead to the utilization of vacant space in office buildings, condominiums, facilities, etc., and serve as the start and finish of mobility. Installing stations throughout the city will make it easier to get to places a bit far away on foot, allowing people to lead a more convenient and affluent life as if they were in a "station front." Furthermore, properties and areas that have been considered far from the station will have new characteristics as a station, which will revitalize and increase the value of the entire city.
High station density provides value to the city
E-scooters and other small electric mobility vehicles were new to the world, and as they became increasingly popular, countries searched for rules to ensure safe and convenient driving. In Japan, the riding rules for e-bikes had been applied to e-scooters, but there were no rules yet for the new group of small electric mobility vehicles that had appeared on the market. In addition, because vehicles that do not meet safety standards can be easily purchased at electronics retailers and e-commerce sites, there has been no end to the number of violations by e-scooters, which are not allowed on public roads.
To have the government establish appropriate rules, Luup has conducted demonstration experiments of e-scooters on more than 30 private and public lands across Japan since 2019 and has listened to people's opinions in the city. After conducting demonstration experiments on university campuses in 2019 and on public roads as e-bikes in 2020, we participated in demonstration experiments for the relevant ministries and agencies to develop rules in April 2021 and began offering an e-scooter sharing service.
First Major Revision in 30 Years to Change Mobility in Japan
On Saturday, July 1st, the revised Road Traffic Law, which establishes new vehicle classifications for e-scooters and other compact electric mobility devices, went into effect. We see this revision of the Road Traffic Law as the first major change to the law since the new form of mobility known as e-bikes was approved 30 years ago. In addition to the requirement that those over 16 years of age do not need a license, the maximum speed will be changed to 20 km/h, a speed similar to that of bicycles.
The establishment of the first traffic rules specifically for e-scooters and other compact electric mobility vehicles is a step forward for Japan toward the safe diffusion of new mobility. In the future, Luup will focus on raising awareness of the new traffic rules in cooperation with industry associations, local governments, and the police, and will also accelerate its efforts to introduce universal mobility vehicles with three or four wheels that can be ridden by all people, including the elderly.
For more information on specific vehicles and changes in the service and future initiatives, please see the press release "LUUP to Launch E-Scooter Sharing Service on July 1st in Compliance with New Traffic Rules": https://luup.sc/news/2023-06-29-new- kickboard-start/ Also, please see this special website for the main changes to the traffic rules:https://lp.luup.sc/pr/2023-new-traffic-rule
About LUUP's Originally Designed Helmets
Wearing a helmet when riding a bicycle or an e-scooter is said to protect the head and reduce damage in the event of a traffic accident. In consultation with the relevant ministries and agencies, we have provided a link to a helmet purchase page (external website) within the app. Although we have tested helmet rental in designated areas, the usage rate was low, and there were many concerns about the hygiene of sharing a helmet and the possibility of it being stolen. It has been a challenge to provide helmets for sharing services.
Therefore, we decided to produce a foldable, originally designed helmet that can be stored and carried in a bag. Through helmets with a sophisticated and simple design and can be worn with any attire, we will try to appeal to people to move from feeling that they "have to" wear a helmet for safety to actively "wanting to" wear one.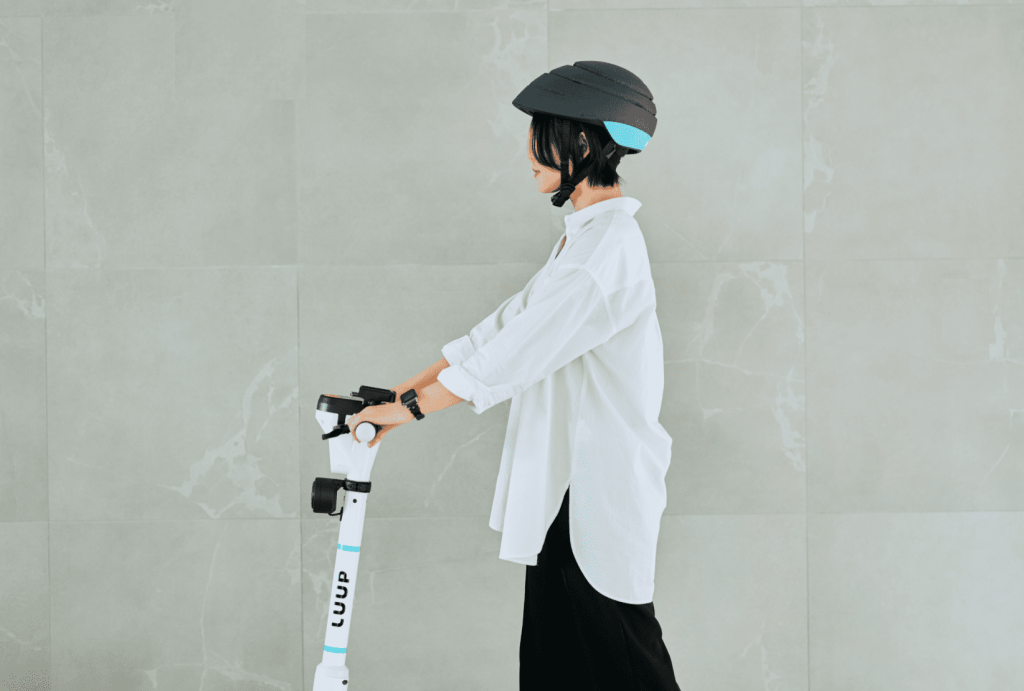 About Luup, Inc.
Luup, Inc. will create a new short-distance mobility infrastructure that makes the entire city "a station front" through the sharing service of electric, compact, and single-passenger micromobility. We currently provide "LUUP," a sharing service of "electric micromobility," in Tokyo, Osaka, Kyoto, Yokohama, Utsunomiya, Kobe, and Nagoya. We will reduce CO2 emissions by popularizing electric micromobility and introduce new electric mobility that can be ridden by the elderly, and ultimately create a sustainable society where all people can get around safely and conveniently.
Location: AKIHABARA CENTRAL SQUARE 4F, 3-21-24 Kanda-Sakumachō, Chiyoda-ku, Tokyo 101-0025
Representative: Daiki Okai
Founded: July 2018
URL: https://luup.sc/
App Store: https://ride-your-city.luup.sc/Myjb/cfcdb04a
Press Contact
● Luup, Inc.
Public Relations: Misato Matsumoto, Megumi Muramoto
E-mail: pr@luup.co.jp
For press inquiries: Please contact us by using the contact form at the bottom of our corporate website (https://luup.sc/) and selecting "For the Press and Media".
For service inquiries: 080-0080-4333
Back to the list