Supporting the city and its people
01.
Maintain the beauty and landscape of the city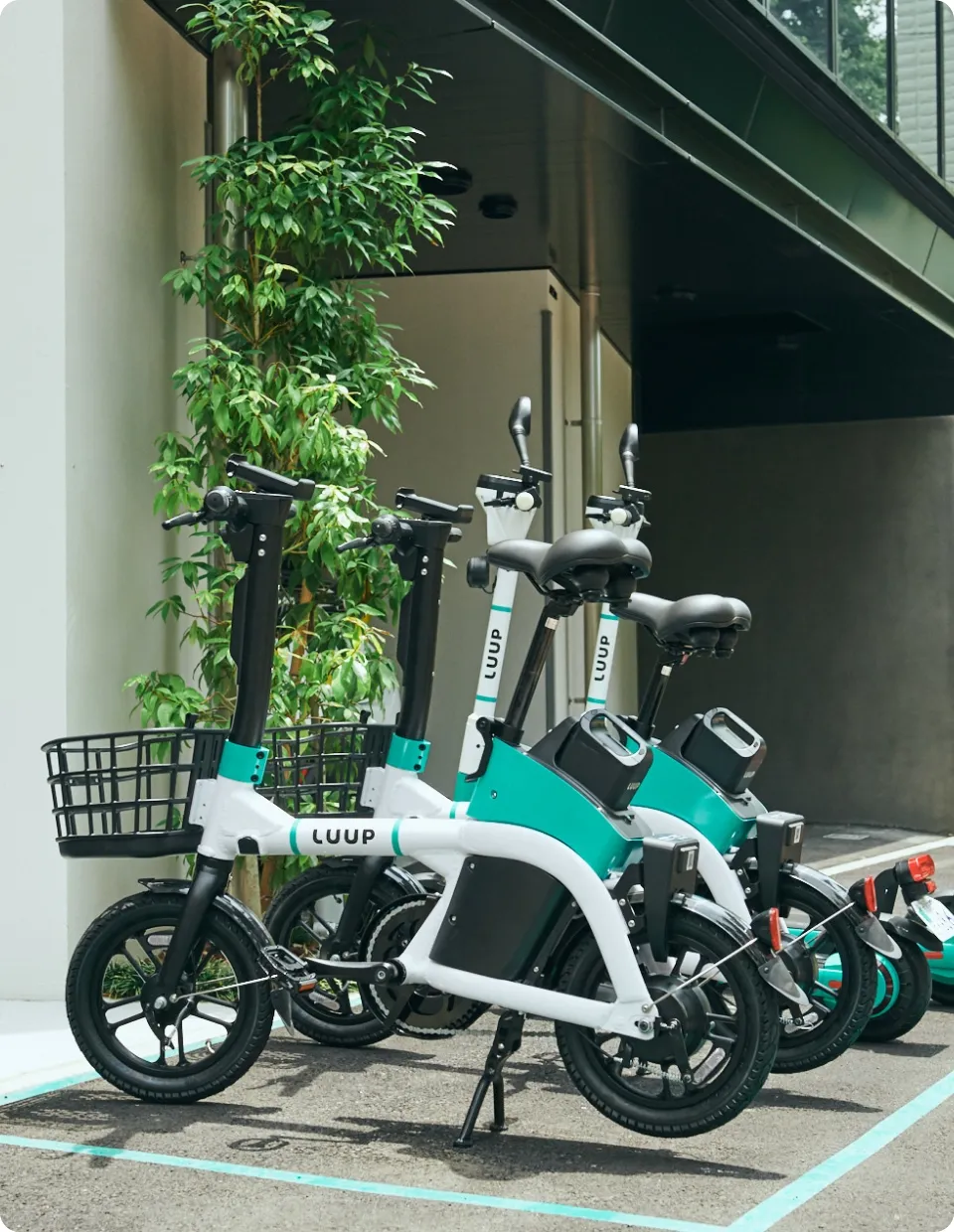 We do not want the increasing number of LUUP to disrupt the harmony of the city before that.
For example, LUUP's parking stations do not require the installation of racks; they are designed so that they are easy to find for those who use them and hard to see for those who do not, as the special LUUP GREEN tape is simply affixed to the ground to demarcate the space.

At some stations, we have also devised a way to prevent vehicles from being placed in a mess when they are returned by laying down guide tape for alignment. In addition, staff members make regular rounds of the stations to inspect and maintain them, and some heavily used stations are cleaned on a regular basis to maintain their aesthetic appearance.

E-bikes and e-scooters are designed in natural colors based on white and LUUP GREEN to blend in with the city. We are striving to provide clean vehicles at all times through frequent maintenance.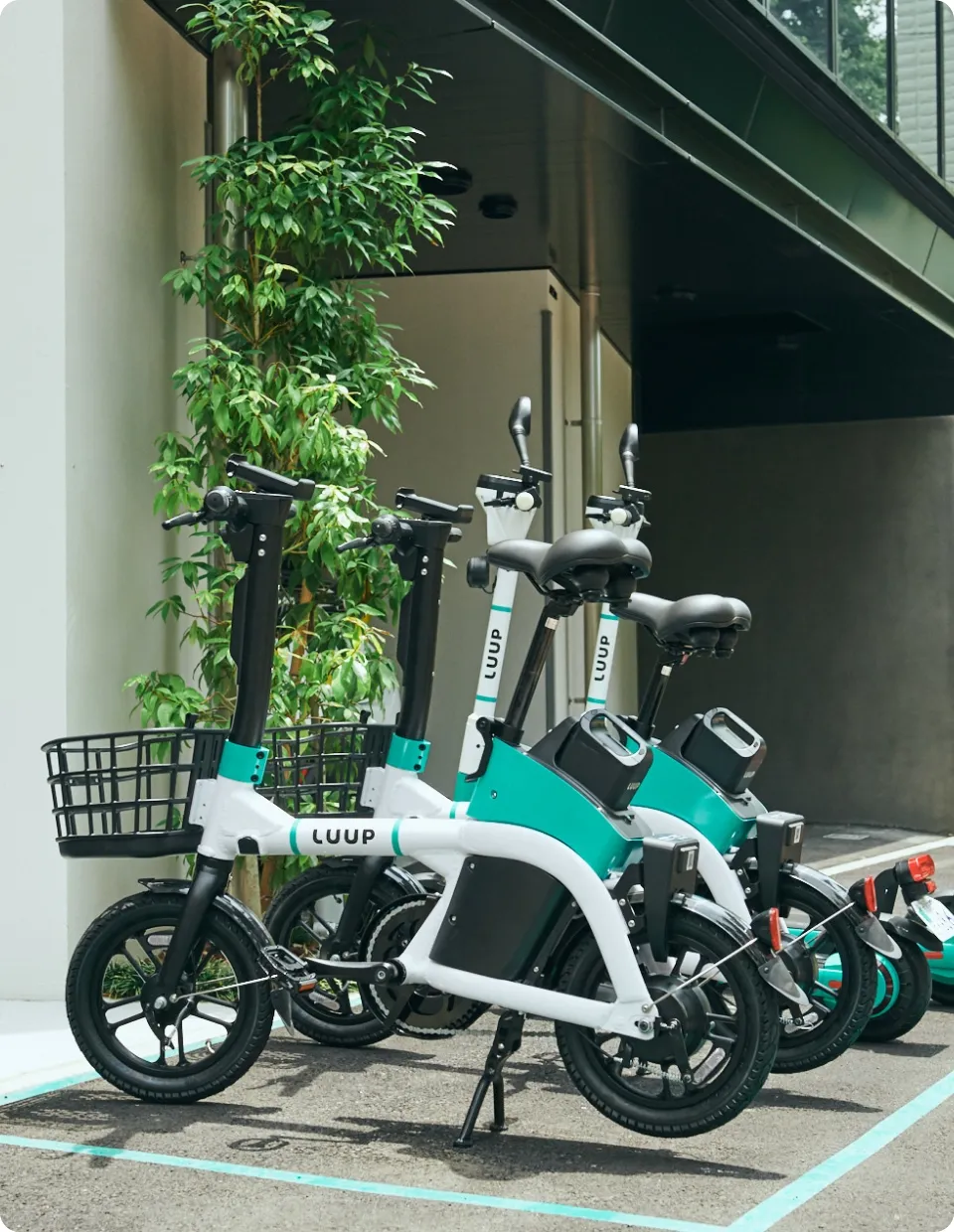 02.
System to protect pedestrian space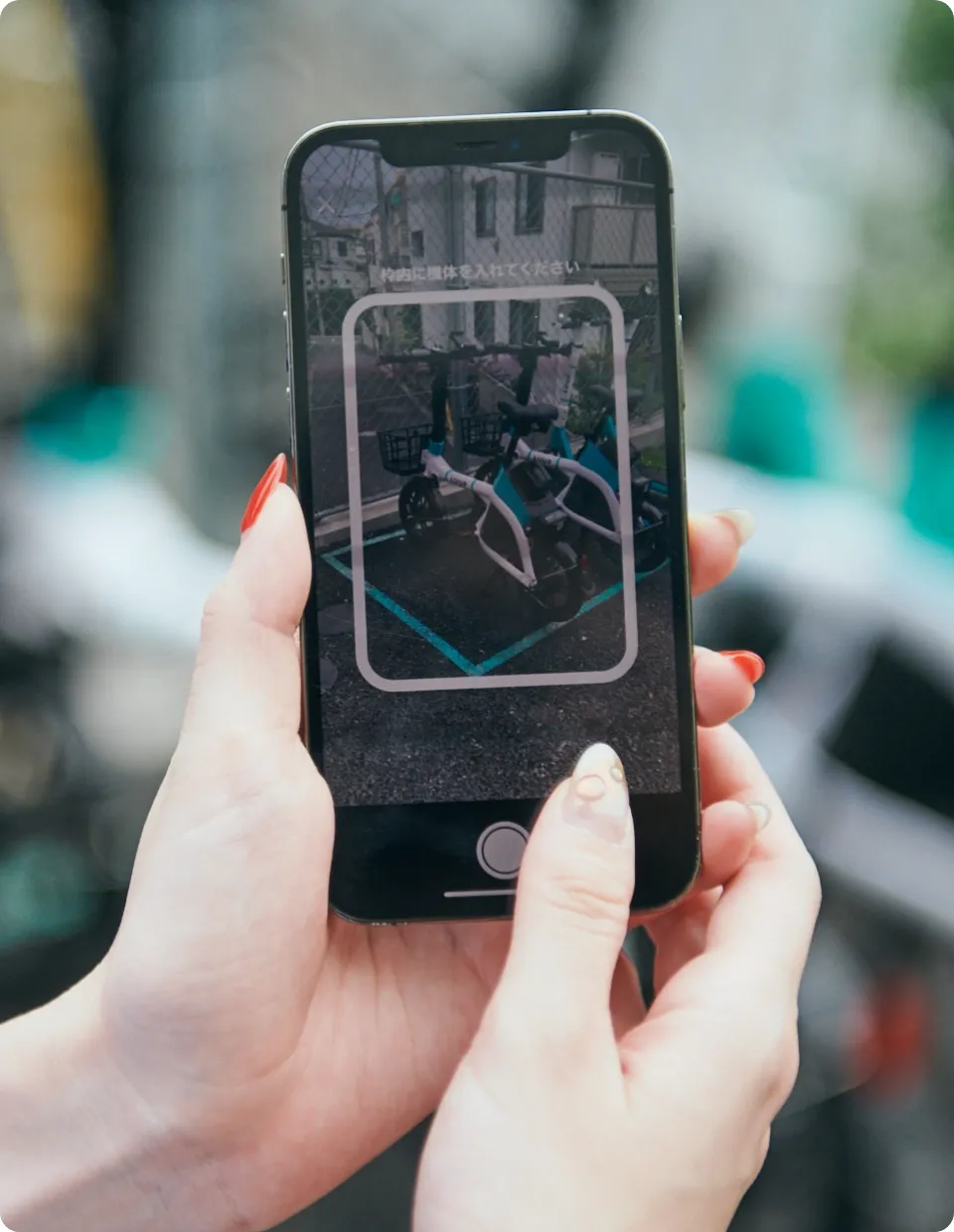 For LUUP, safety is important not only for users but also for non-users.
When deciding to install a LUUP station, our first priority is to secure a walking space and make sure that it does not interfere with the pedestrian flow. To also make the space required to install the station as small as possible, the sizes of the e-bikes and e-scooters are standardized to avoid wasted space.

In addition, in order to prevent vehicles from overflowing the station, users are required to make a reservation for the station they wish to return at the start of use and to take a picture of the vehicle they have used before returning it to the station. In the unlikely event that a vehicle is left at a location away from the station, the location is identified by GPS and the vehicle is immediately retrieved.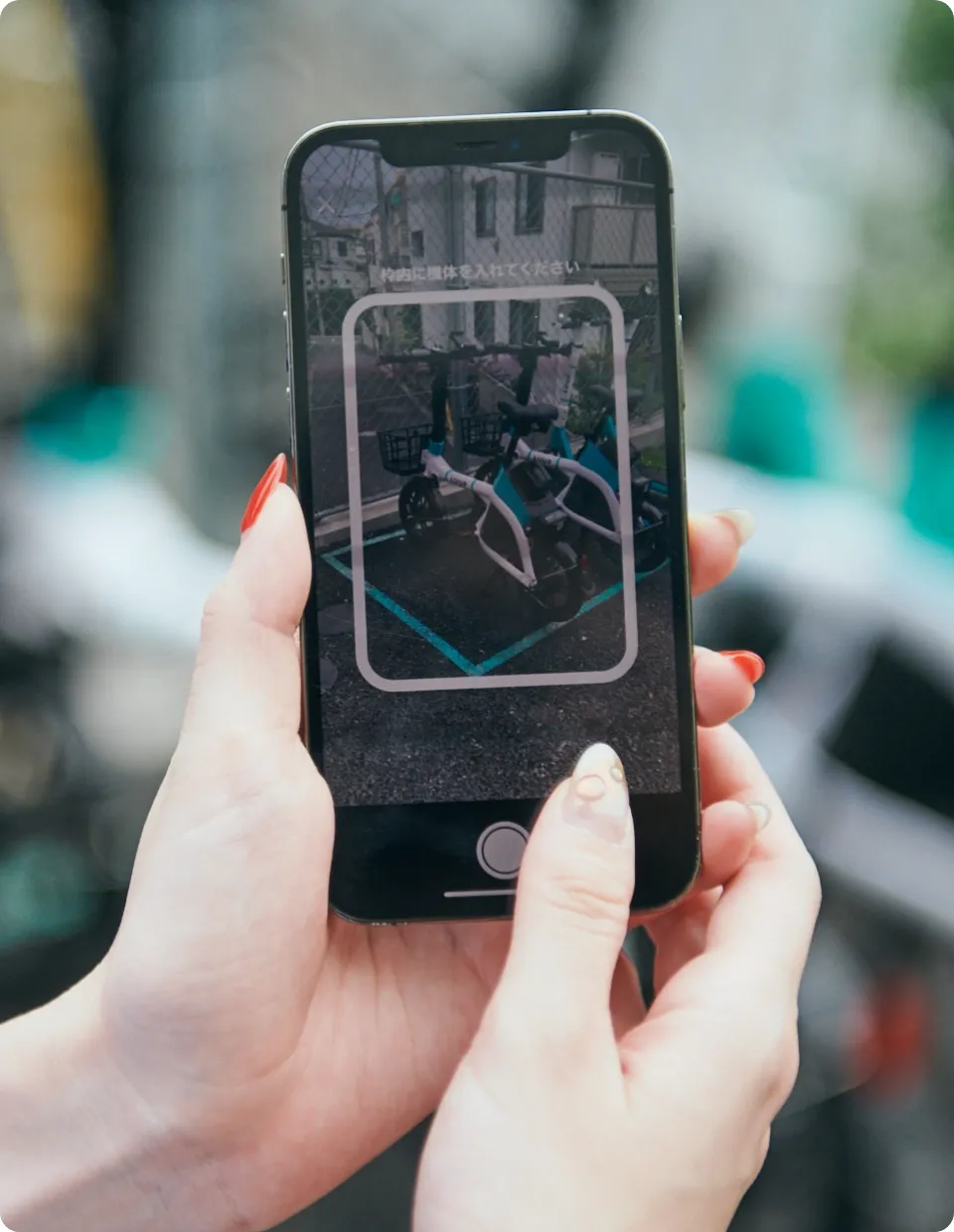 Create a safe and secure environment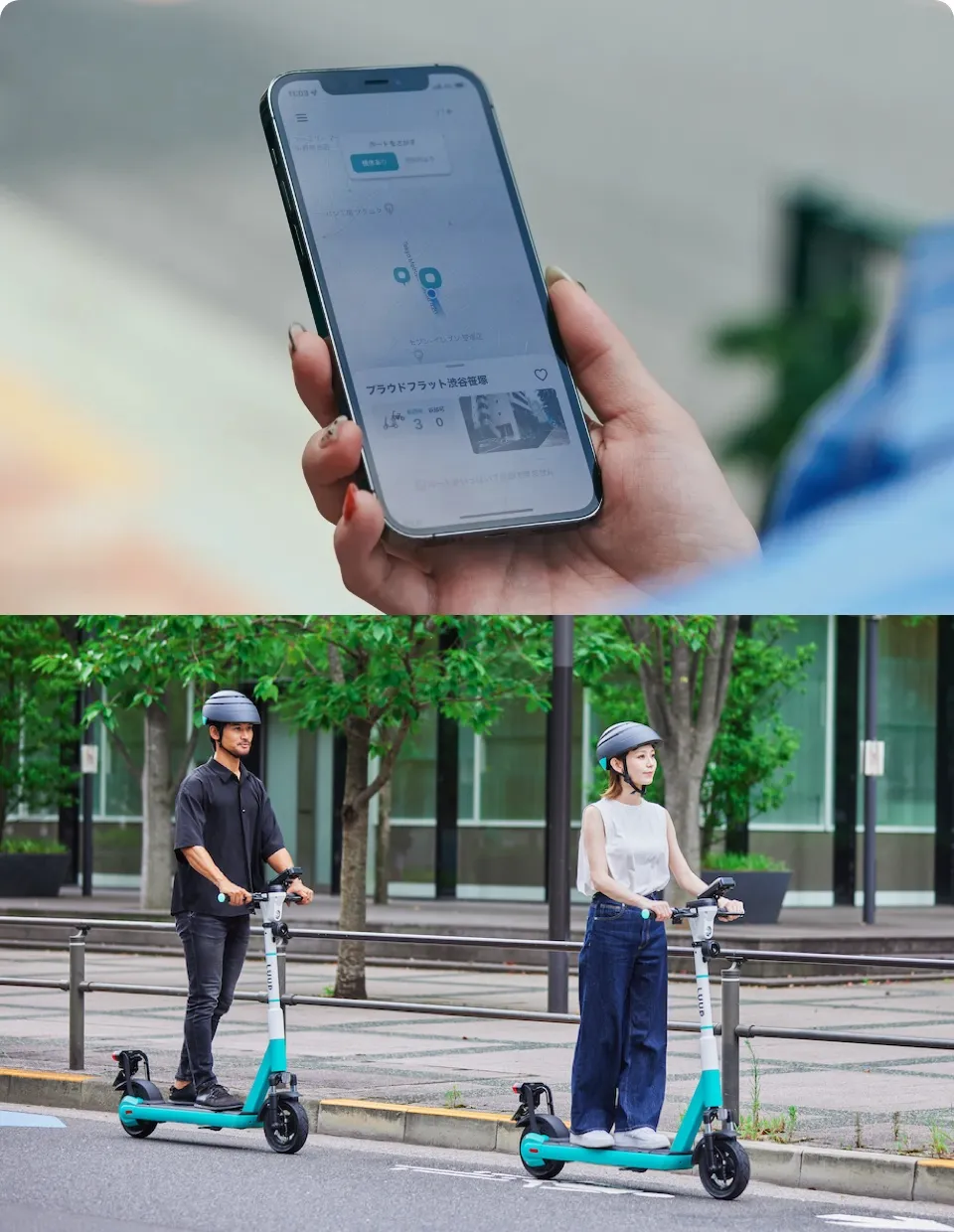 01.
Committed to service designa
and latest technology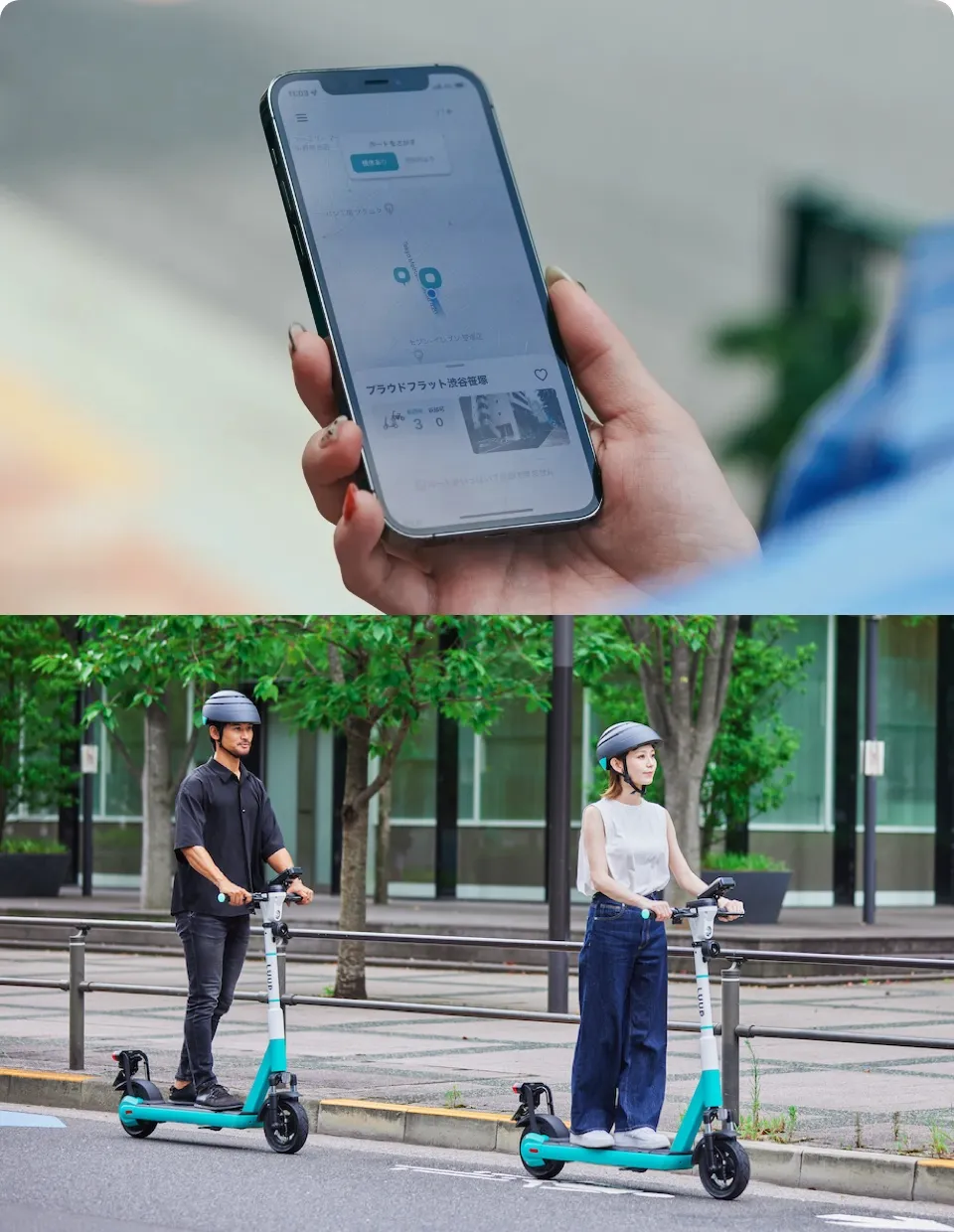 We are constantly improving our vehicles and services to ensure that users can always ride LUUP with peace of mind.

E-scooters have achieved a high level of robustness through numerous updates by reviewing the thickness of the footholds and the size of the tires. E-bikes boast a high level of running stability thanks to their small but easy-to-handle handlebars and right level of assistance system.

The white-based coloring also ensures high visibility from the surroundings, making it safe even at night. We are constantly checking feedback from users, and have an operation in place to immediately retrieve vehicles that appear to have even the slightest defect and prioritize their inspection and maintenance.

In addition, geo-fencing based on GPS and other technologies is applied to notify users when they enter areas where driving is dangerous or prohibited. Luup will continue to research and develop the latest technologies to ensure the safety for all.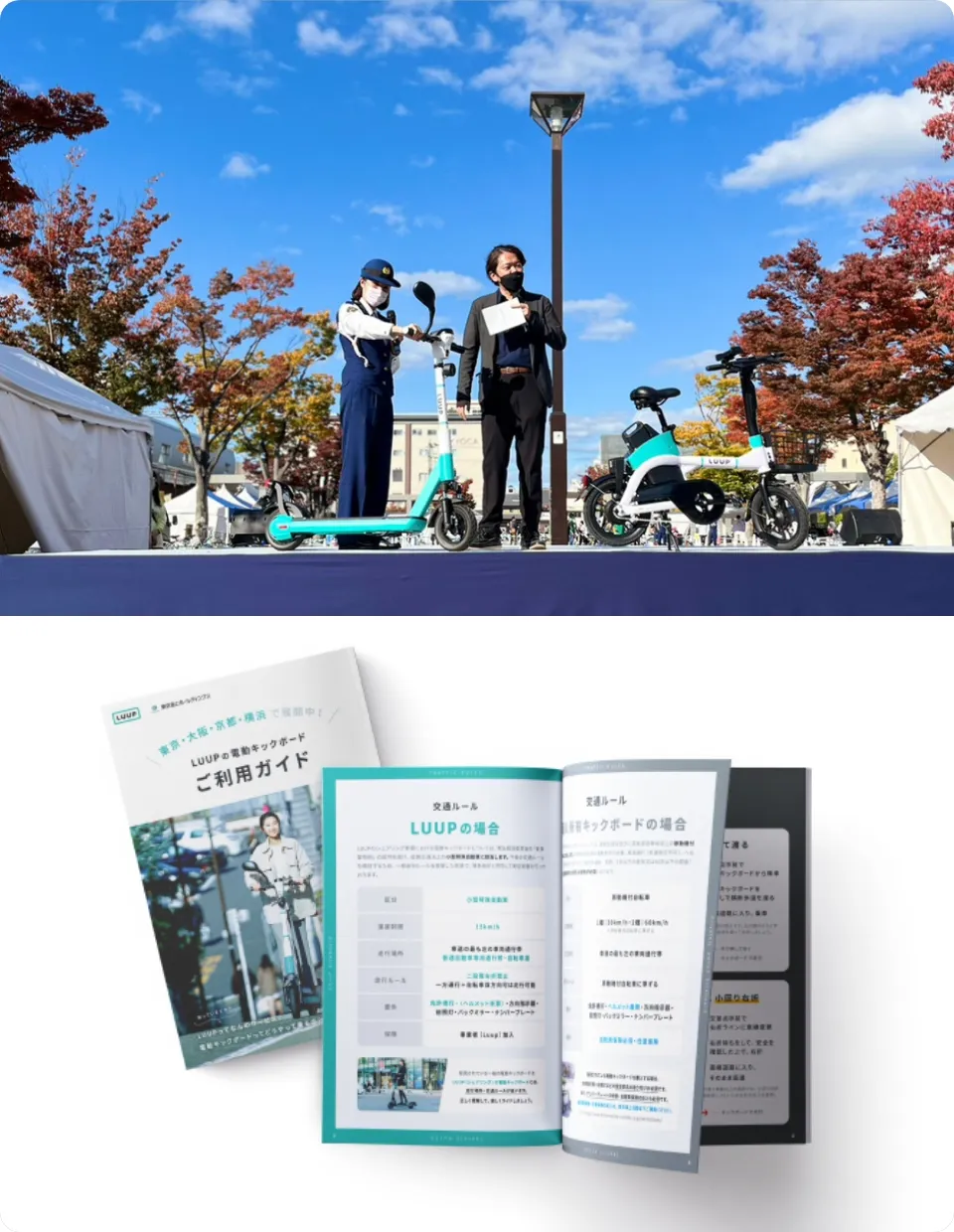 02.
Raise awareness of traffic rules and improve manners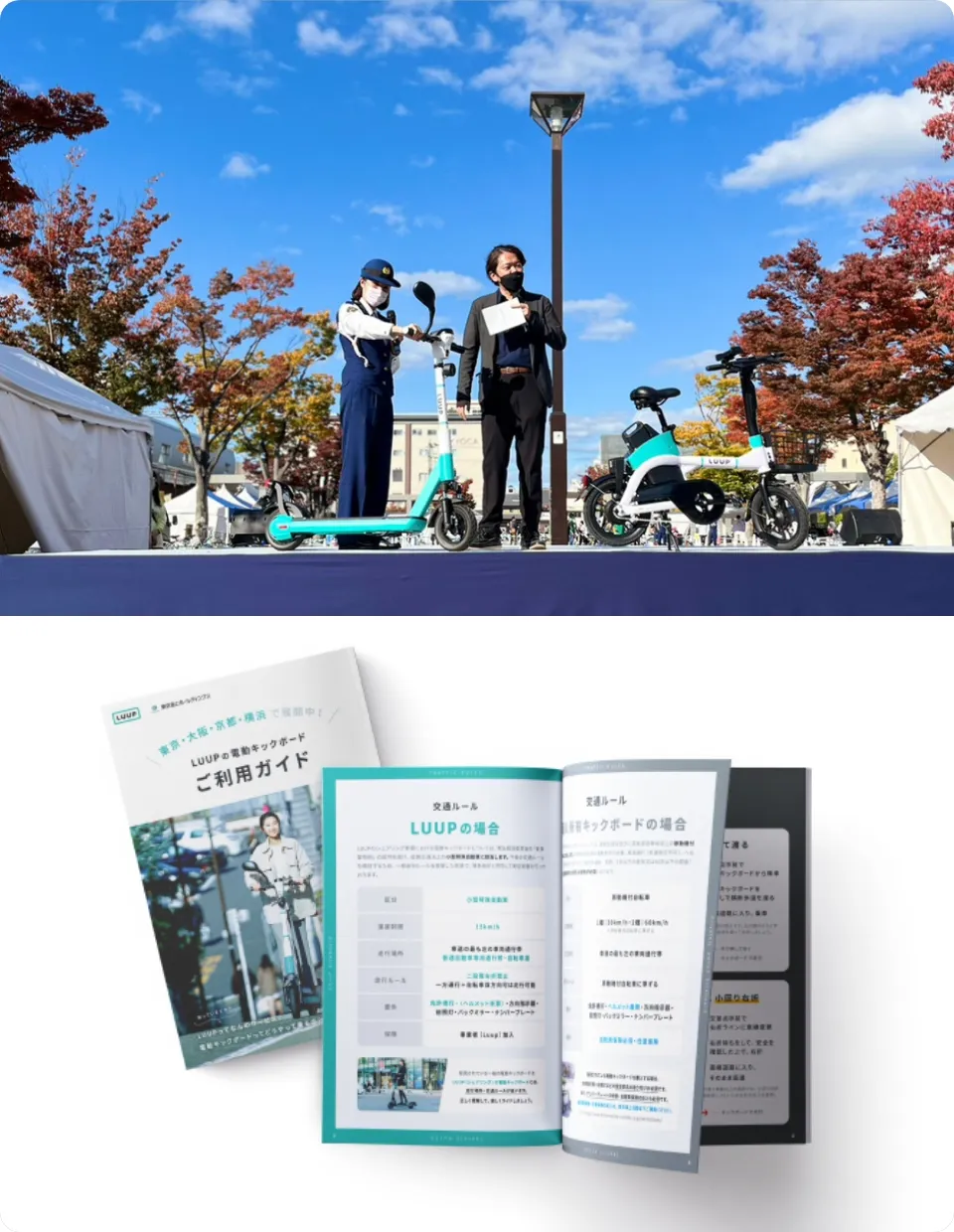 Because it is a vehicle for casual use, it is necessary to follow the rules carefully.

In order to use LUUP's e-scooter, users must register for an account and take a test to assess their understanding of traffic rules and answer all questions correctly. Since the understanding of traffic rules for e-scooters is not yet common, passing the test is a prerequisite for use.

To ensure that people know how to ride an e-scooter properly and use it safely in person, we hold safety seminars in cooperation with the police and other authorities throughout Japan, and we also regularly hold "station guides" at major stations, where our staffs provide guidance to users. We also strive to raise safety awareness by distributing a "user's guidebook" jointly produced with Tokio Marine Holdings, with whom we have raised capital and signed a business alliance.

In addition, we have appointed "LUUP Ambassadors" to help raise safety awareness and provide information on traffic safety in a variety of venues.
We will continue to conduct various safety awareness campaigns both online and offline.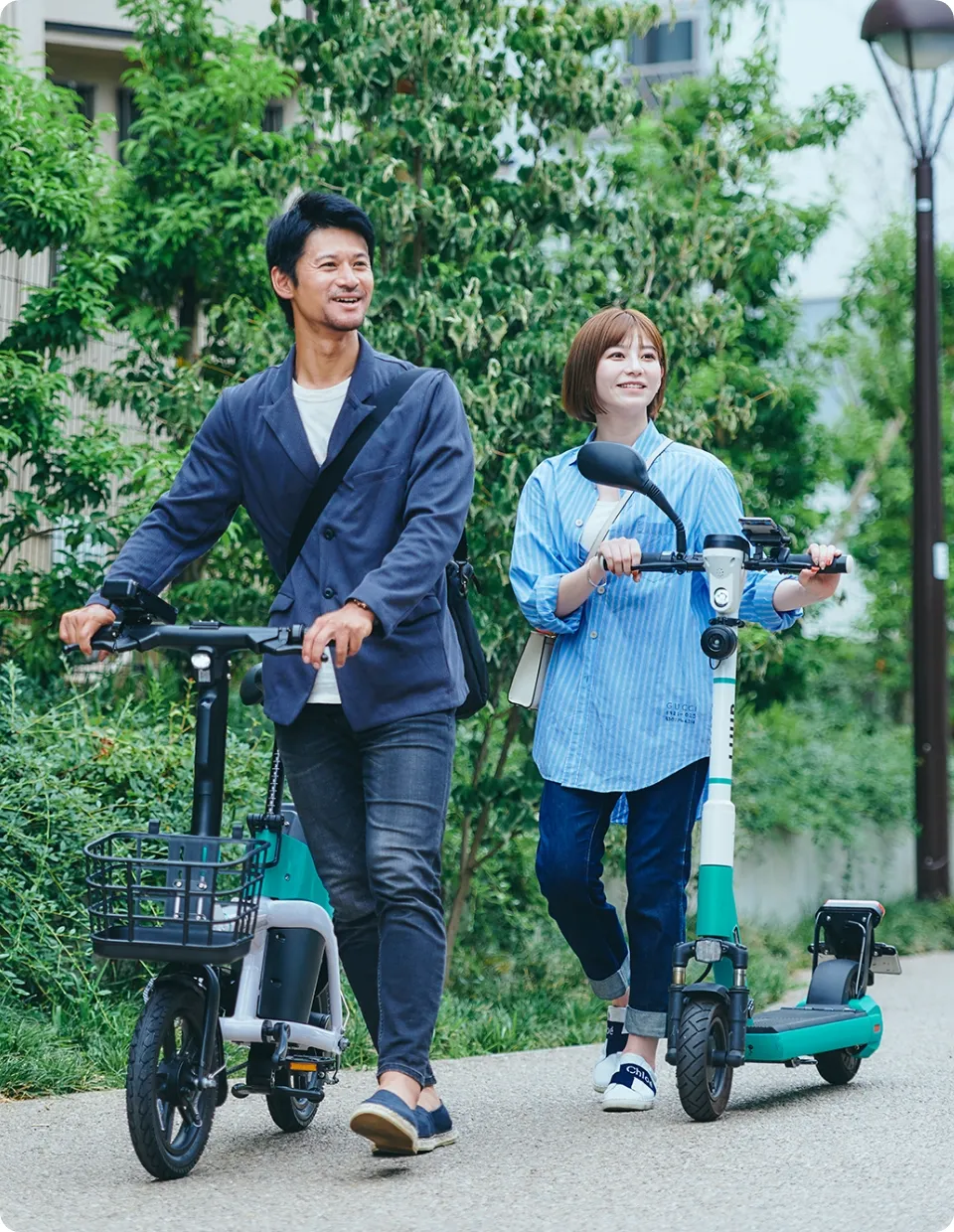 03.
Effort for the peace of mind for all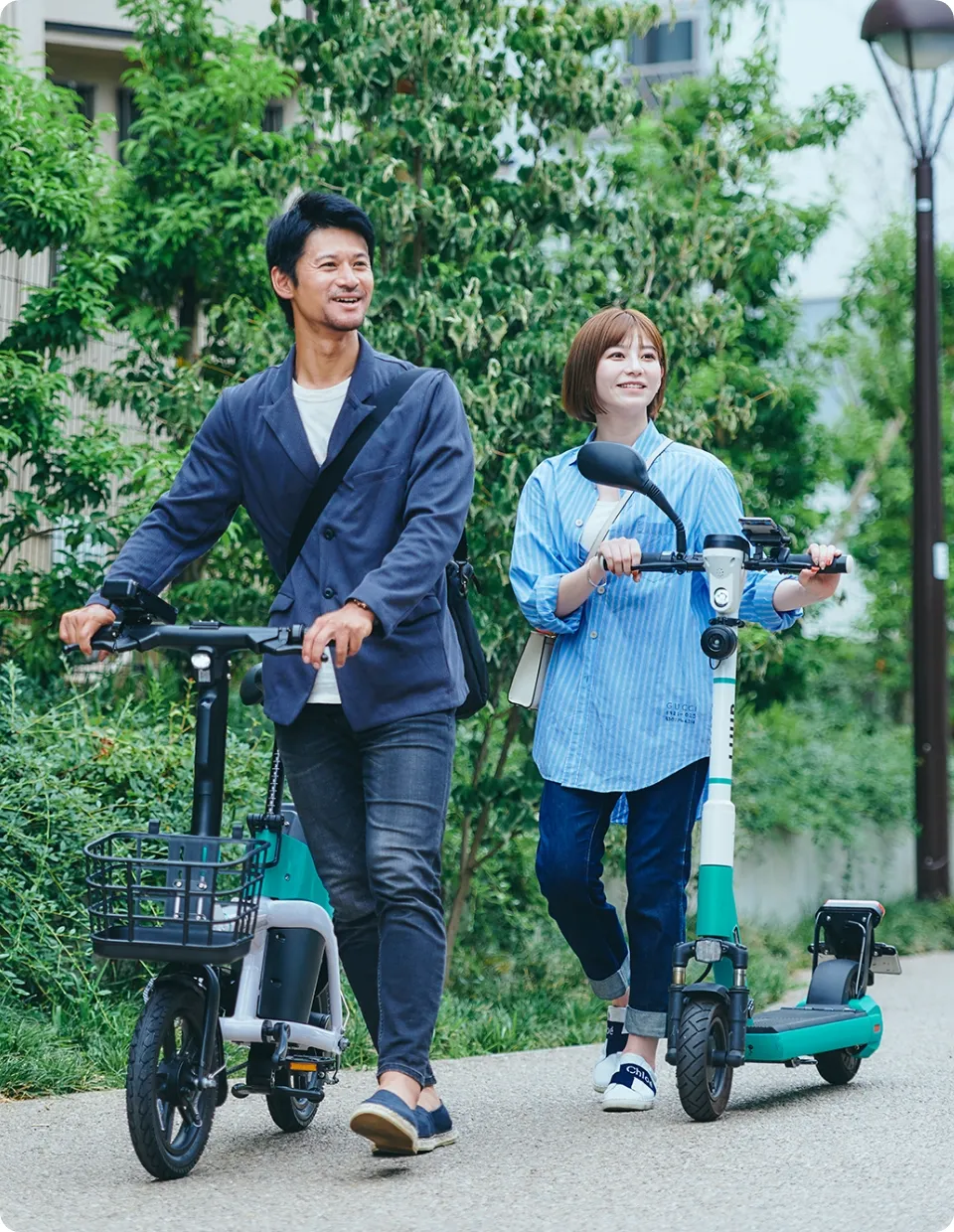 It is important to be prepared for emergencies. All of LUUP's e-bikes are covered by bicycle insurance, and all of our e-scooters are covered by voluntary insurance in addition to liability insurance. In the unlikely event that something should happen during a ride, both users and non-users are covered by insurance.
We take strict measures against some malicious users, and if a violation is confirmed, we will issue a severe warning, suspend or freeze the account, depending on the nature of the violation.
Facing social issues
01.
Solving social issues related to mobility
Luup is working together with various local governments to solve mobility-related issues while concluding cooperative agreements with them.

For example, we are working with Suginami Ward, Tokyo to examine how electric micromobility can contribute to mobility within the city as a complement to public transportation systems such as trains and buses.

Another example is Yokohama City in Kanagawa, which is rich in tourism resources, where electric micromobility is being used to improve people's mobility and create a lively city.

With the cooperation of various local governments, we hope to discover other roles that electric micromobility can play, such as addressing the mobility issues of the elderly.
02.
Challenges other than mobility
LUUP's micromobility and stations also tackle social issues other than mobility.

We have signed a partnership agreement with Shibuya Ward, Tokyo, and are working together to eliminate abandoned bicycles from the city in addition to implementing last mile transportation infrastructure.

We are participating in councils and other meetings of local residents, and through repeated dialogue, we are contributing to the creation of an environment that does not allow bicycles to be left unattended by installing LUUP stations.

We are also discussing the possibility of using electric micromobility as a means of emergency transportation for municipal employees and others in the event of a natural disaster, in consultation with the government and local authorities.

Measures against abandoned bicycles and disaster response are just one example. We will continue to explore the value that can be provided only by electric, compact, single-seat mobility.