FamilyMart Co.,Ltd. (Head office: Minato-ku, Tokyo; President: Kensuke Hosomi; hereinafter "FamilyMart") and Luup, Inc. (Head office: Shibuya-ku, Tokyo; President and CEO: Daiki Okai; hereinafter "Luup") agreed on a strategic partnership, and FamilyMart made a strategic investment in Luup. Through this partnership, the two companies will begin full-scale collaboration, including the installation of LUUP ports at FamilyMart stores and joint marketing effort.
FamilyMart operates approximately 16,600 stores nationwide (*1) and aims to be an indispensable place that goes beyond convenience while staying close to the community and connecting with each and every customer like family. Currently, FamilyMart is working to build stores that can focus on more heart-to-heart communication with customers by proactively utilizing new technologies, such as unattended payment systems, beverage refilling robots, and digital signage to provide an unprecedented store experience for customers who visit the stores.
Luup is developing "LUUP," a sharing service for electric, compact, and single-passenger micromobility, with the mission to "create an infrastructure that turns the entire city into a 'station front.'" In particular, as an e-scooter sharing service provider, Luup holds more than 90% of the domestic market share (*2). In the future, Luup aims to handle not only e-scooters and e-bikes but also a wide range of other mobilities to create a future in which all people can move freely.
FamilyMart will use this alliance as an opportunity to support Luup's future growth so that users can use its service safely and securely. The two companies will fully cooperate in accelerating the installation of LUUP ports in FamilyMart stores, improving safety utilizing FamilyMart's store assets, cross-selling between FamilyMart and LUUP, and other activities.
*1 As of April 2022
*2 Based on the total distance traveled under the New Business Exception System for businesses that are members of the Micromobility Promotion Council from 2021 The Third Meeting of Working Group on Vehicle Safety Measures (March 14, 2022) Summary of the E-Scooter Demonstration Experiment Results and Safety Measures
https://www.mlit.go.jp/common/001469846.pdf
Major Initiatives
1. Installation of LUUP ports at FamilyMart stores
FamilyMart and Luup began working together in October 2020, and several FamilyMart stores in Tokyo have already installed LUUP ports. By expanding the number of stores with LUUP ports installed, we will contribute to improving convenience for FamilyMart store users, and also, work together to popularize the LUUP service through the expansion of the port network. In addition to the areas LUUP is currently available in; Tokyo, Osaka, Kyoto, and Yokohama, we plan to install LUUP ports at stores in regional cities as the LUUP service area expands. Both companies will also work together to improve the safety of LUUP's services through in-store educational activities and announcements.
2. Cross-selling through collaborative marketing initiatives
We will implement joint marketing initiatives to promote the use of LUUP by FamilyMart store users and the use of FamilyMart stores by LUUP users, respectively. Specifically, the two companies will consider advertising LUUP in FamilyMart stores, including the use of digital signage, and implementing promotional initiatives for FamilyMart products to LUUP users.


3. Joint consideration of new services
We will develop new services by utilizing the customer and mobility data owned by FamilyMart and Luup respectively, as well as the store and port networks. Through these efforts, we aim to grow the business of both FamilyMart and Luup and contribute to local communities.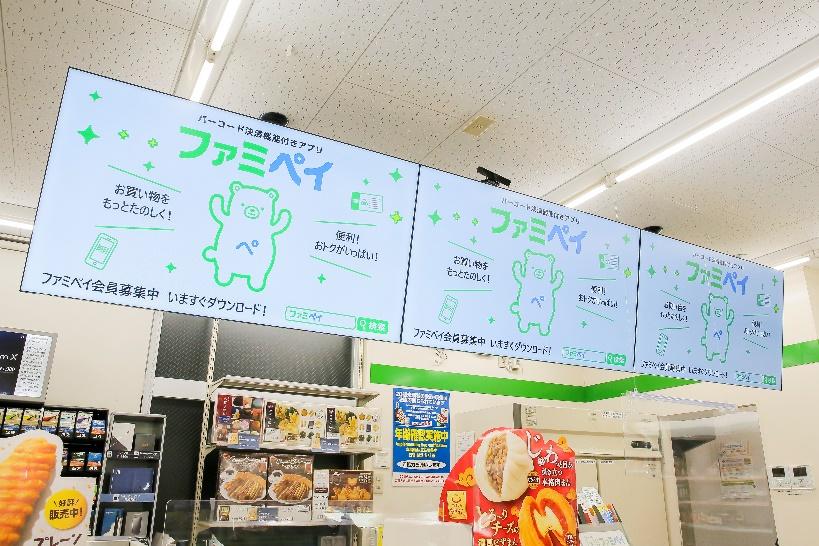 About FamilyMart Co.,Ltd.
Location: 3-1-21 Shibaura, Minato-ku,Tokyo 108-0023
Representative: Kensuke Hosomi
Founded: September 1st, 1981
URL: https://www.family.co.jp/
About Luup, Inc.
Location: 16F Link Square Shinjuku, 5-27-5 Sendagaya, Shibuya-ku, Tokyo 151-0051
Representative: Daiki Okai
Founded: July 2018
URL: https://luup.sc/
Press Contact
● Luup, Inc.
Public Relations: Misato Matsumoto, Megumi Muramoto
E-mail: pr@luup.co.jp